An Attorney Who Is Always
Available For You
Edna Herrera Dinsdale
Attorney at Law
Biography
Edna Herrera Dinsdale was born in the Rio Grande Valley and has lived and worked amongst the people of Texas her entire career. She received her Bachelor of Arts from The University of Texas in Brownsville and received her Juris Doctorate from Thurgood Marshall School of Law in Houston, Texas. While attending law school, Mrs. Dinsdale was an active member of the Hispanic Law Student's Association. She proudly offers her services to Spanish speaking clients.
After graduation, Mrs. Dinsdale moved back home to the Rio Grande Valley and continued her trial advocacy training while employed as a prosecutor with the Cameron County & District Attorney's Office. As a prosecutor, Mrs. Dinsdale reviewed and filed hundreds of misdemeanor criminal cases, which gives her a unique insight into what the State of Texas must prove to secure a conviction against a client.
After distinguishing herself in the several County Courts at Law, Mrs. Dinsdale was promoted to handle complex felony cases. While serving as a felony prosecutor in the several Cameron County District Courts, Mrs. Dinsdale tried multiple felony cases including but not limited to: murder, aggravated sexual assault, aggravated assault, DWI, domestic violence, and drug possession cases.
Additionally, Mrs. Dinsdale represented the State of Texas in all associated matters handled by a District Attorney's Office including counseling with probation officers, law enforcement officers, witness preparation, legal research, expunctions, plea negotiations, and drafting pre-trial motions. While handling a full criminal docket, Mrs. Dinsdale also argued contested Protective Orders and was an active member of the Child Abuse Unit as a felony prosecutor.
During her time with the County and District Attorney's Office, Mrs. Dinsdale gained immense knowledge into all matters associated with the criminal trial process. In 2015, Mrs. Dinsdale was awarded the "Pillar of Justice Award" for her outstanding performance as a prosecutor during her time with the Cameron County & District Attorney's Office. After years of successfully practicing criminal law for the State of Texas, Mrs. Dinsdale decided to put her talents to work for the people for the people Texas who are accused of crimes and need an effective lawyer to represent their rights in a complex legal system.
In addition to her criminal law experience, Mrs. Dinsdale also serves clients in expunging criminal records, and traffic ticket court. Mrs. Dinsdale is experienced in litigating, negotiating settlements and plea bargains, and advocating fiercely for her client's rights.
Mrs. Dinsdale understands some decisions can completely change your life. Your choice of a lawyer to defend you against a criminal accusation is one of those decisions. With Mrs. Dinsdale you can expect straight answers to your questions and an attorney to help you in exploring all your options. The Law Office of Edna Herrera Dinsdale will work with you to get you and your family through what might be the most difficult experience of your life.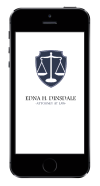 Call Mrs. Dinsdale today and let her put her experience, knowledge, and skill to work for you.
Your future is too important
to trust any other lawyer